"With irreplaceable technology, RUBASSE has had digital transformation success."
The interview with RUBASSE in Business Today!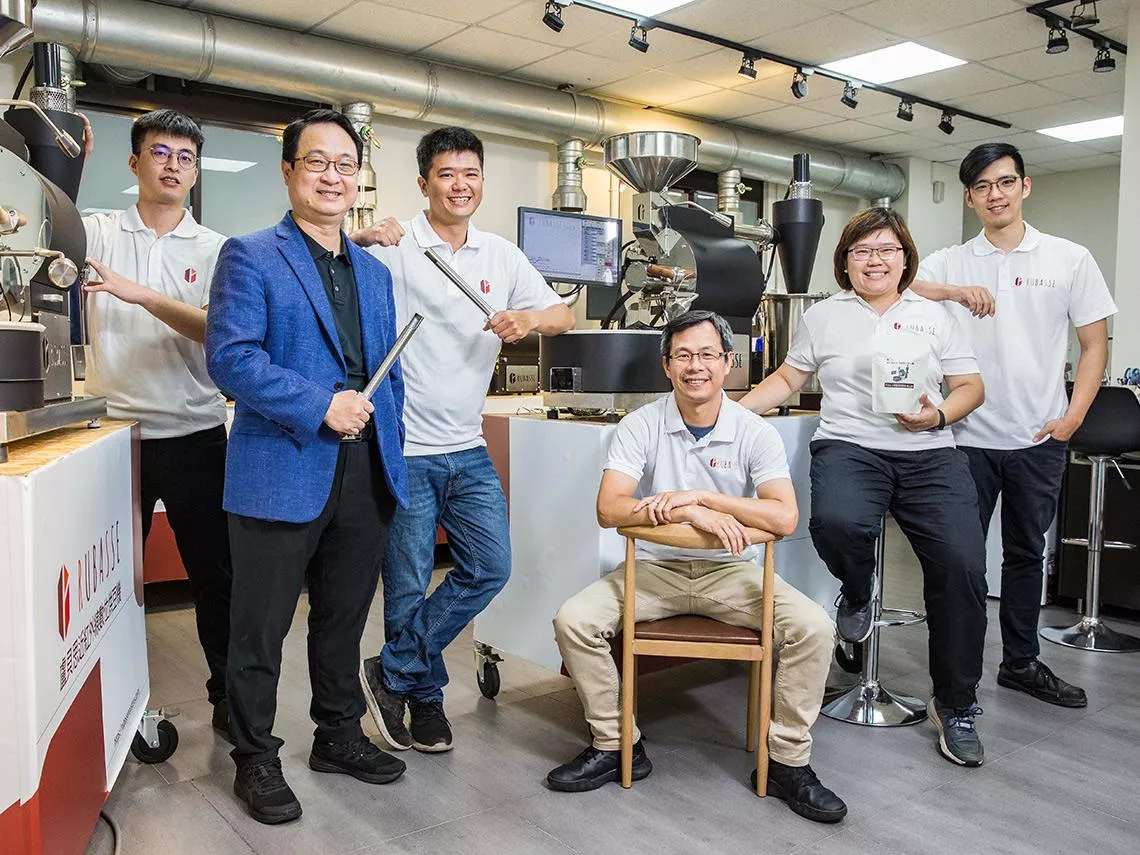 William Cheng (third from the right), and RUBASSE work team. ( photo credit/ Tang Shaohang 唐紹航)
---
Greeting everyone!

We are pleased to share with you all the good news: RUBASSE accepts the interview from Business Today(今週刊), Taiwan's most influential financial media.
---
Here is the complete article:
Roasting beans using Semiconductor process, RUBASSE has exported their products to over twenty countries.

William Cheng(鄭景丞),the founder of RUBASSE, is a PhD in Physics at National Taiwan University (NTU). After graduating from NTU, most of his classmates become the high-paid engineers at TSMC. With the strong passion for Specialty Coffee, William Cheng founded "RUBASSE", which is a Startup in coffee industry. Having sold more than five hundred units of coffee roasters, RUBASSE has become the market leader in Taiwan with highest market share for commercial automated coffee roasters.
In addition, RUBASSE succeeds at exporting to more than 20 countries, including Malaysia, those in European Union, and in the Americas. Its clients range from well-known coffee shops in Taiwan, such as "DYC (打咖啡)", to Hollywood production studios. With revenue reaching nearly 40 million NT dollars last year, it is expected to challenge the 50 million NT dollars this year.


Being passionate about Coffee, William Cheng took the class of "Specialty Coffee" at NTU. He learned the importance of roasting for the flavor, "We cannot change the flavor of green coffee beans, but 75% of the remaining flavor depends on roasting, 25% depends on brewing". Also, William found that most roasters in the market prefer gas roasting machines, which have many limitations.
Specifically, it's ineffective and power-wasting when heating with gas. Moreover, the quality of final products entirely relied on roasters, who must stand aside the machine, making constant adjustments to control the level of heat. Especially on Specialty Coffee beans, they can only be produced in small batches, which are time-consuming and labor-intensive. These cause the already expensive beans are often sold four times higher after roasting.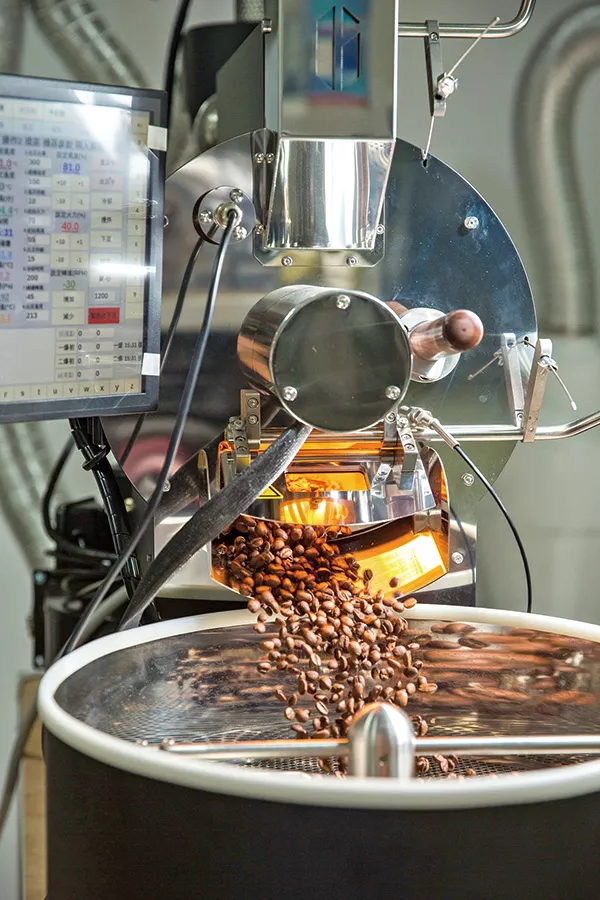 The Near-Infrared Coffee Roasters. ( photo credit/ Tang Shaohang 唐紹航)
---
Efficient, Energy Conservation and Automation

"The commonly infrared heating technology in semiconductor manufacturing allows for stable rapid heating and cooling within a short time. And what would happen if it was used in coffee beans roasting?" Studying for doctoral program at NTU, William Cheng already had such innovative ideas. Combined with own profession, he developed roasting machine in 2013. He self-studied programming language to build automatic system, bought the lathe and the milling machine to produce components. "I had the skills of physics, software, electric-control and mechanic. All I need to do is integrate them all."
"During the research and development process, the installation of the infrared lamps has been the most challenging aspect." William Cheng said. He must ensure that the infrared rays can evenly irradiate coffee beans, and also needs to avoid beans from being scorched by the lamp. After three years of development, in 2016, William Cheng utilized his self-earned one million NT dollars of investment along with contributions from family and friends to commence full-scale production and sales of his unique coffee bean roasting machine.
There are a lot of advantages of this roasting machine, which has obtained the world's exclusive near-infrared patent. In the past, most roasters favored gas roasting machines, which typically took around 15 minutes to evaluate from room temperature to 200 degrees. But the RUBAASE's infrared machine could do it in just 6 minutes, and it took about 10 minutes to cool down to normal temperature. While being highly efficient, it also saved 3 to 4 times energy compared to traditional gas-powered machine.
In addition, RUBASSE has also introduced digital automation, which not only records the coffee roasting process in the computer for repetitive execution or replication on other machines but also automatically adjusts the roasting intensity based on data from temperature, humidity, and other sensors. This significantly reduces the need for roasters to manually adjust temperature, and the need for human monitoring and the time during the roasting process.
One of its clients, the founder of Wells Coffee Roaster(井井咖啡),Shi Wen Chen(陳璽文) said: "Most roasters who promote automation typically are dropping beans in when a certain temperature is reached. Indeed, RUBASSE has an additional function 'Heating Rate', which allows the roasters to regulate the initial heating speed at a tolerance of plus / minus 3. This innovation not only 100% replicated the flavor of coffee, but also saved the human effort.
Running RUBASSE company, William Cheng never stops improving the technology of roasting machine. Recently, he added "cracking sound" feature to the sense data. The term "cracking sound" refers to the audible sound produced by coffee beans as they expand during high-temperature roasting. By analyzing this sound, it allows them to determine the degree of roasting and make decisions on whether to increase or decrease the temperature accordingly. With the stacking of multiple technologies, it's challenging to other automated roasting brand to replicate the innovation of RUBASSE.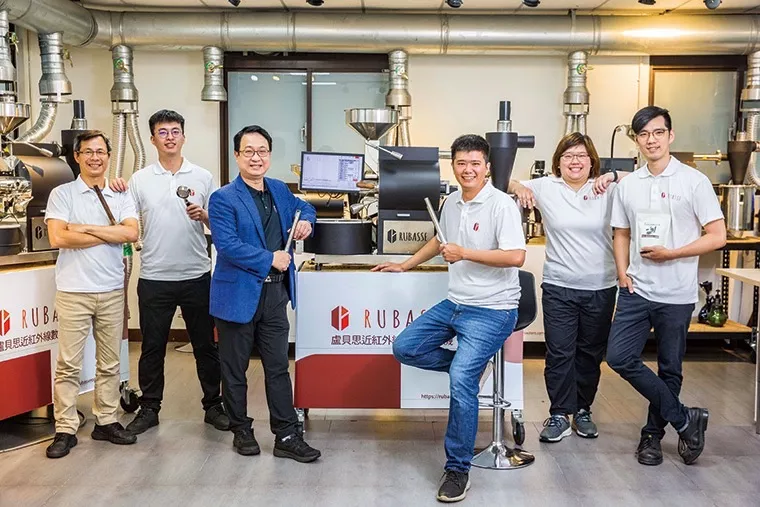 ---
"He is engaged in the digital transformation of the coffee industry."

Vincent Liu(劉文帥), the Chairman of Yuanxiang investment and the co-founder of Smart Capital, highly praised RUBASSE's innovation. With this recognition, in RUBASSE's third years of establishment, he personally invested in this brand; and last year, he introduced Smart Capital Found.
"He is engaged in the digital transformation of the coffee industry." Vincent Liu recognized the uniqueness of William Cheng and RUBASSE. In the first year of sales, RUBASSE sold 20 machines online, this boosted Vincent Liu's confidence in this brand further.


However, compared to most automated roasting machine priced at over NT million, William Cheng sold his machines at a much more affordable price, for just over NT ten thousand. Fortunately, Vincent Liu is a market expert. He provided RUBASSE with many suggestions, advised William raise selling price, and promoted RUBASSE to establish a business department.
With the efforts of a 10-person business team, RUBASSE's products are now exported to more than 20 countries. They have targeted coffee roasters, café owners, and professional coffee enthusiasts as their main customers. Recently, they have been in talks with distributors in Southeast Asia for cooperation, and discussions with European manufacturers are also underway. As a result, the export proportion has increased to 40%.
The overseas sales process of RUBASSE was halted due to covid-19, but fortunately, in June, they made a comeback by participating in the prestigious European Specialty Coffee Exhibition. Taking advantage of this opportunity, William Cheng made a grand promise to market RUBASSE globally and expand its reach to every corner of the world.
---